De onmisbare schakel tussen koper en verkoper
Vastgoedadvies De Rick is de onmisbare schakel tussen koper en verkoper. Met meer dan 25 jaar ervaring is De Rick niet meer weg te denken uit Aalst.
Bent u kandidaat koper of huurder? Bekijk dan zeker hun ruime aanbod huizen en appartementen.
Juridische begeleiding, doelgerichte aanpak en vertrouwen staan bij het gedreven team centraal.
Verleende diensten
Webdesign
Webdevelopment
Marketing
Projectbeschrijving
Voor Immo De Rick ontwikkelden we een website die enerzijds het bedrijf voorstelt en anderzijds alle panden die te koop of huur zijn weergeeft in een handig overzicht. Om deze panden weer te geven werd een API-koppeling op maat gebouwd die in verbinding staat met het systeem van Zabun.
De volledige website werd op maat ontworpen en geprogrammeerd, waarbij alles makkelijk aanpasbaar is in het CMS.
Om het aanbod voor de bezoeker te beperken en naar hun criteria panden weer te geven, werd een zoekfunctie geïntegreerd met een aantal filter mogelijkheden. Zo krijgen de bezoekers steeds de panden te zien die aansluiten bij de ingegeven zoekcriteria.
Met behulp van verscheidene "Call to actions" weet de bezoeker meteen wat te verwachten en ervaart hij zijn bezoek als aangenaam.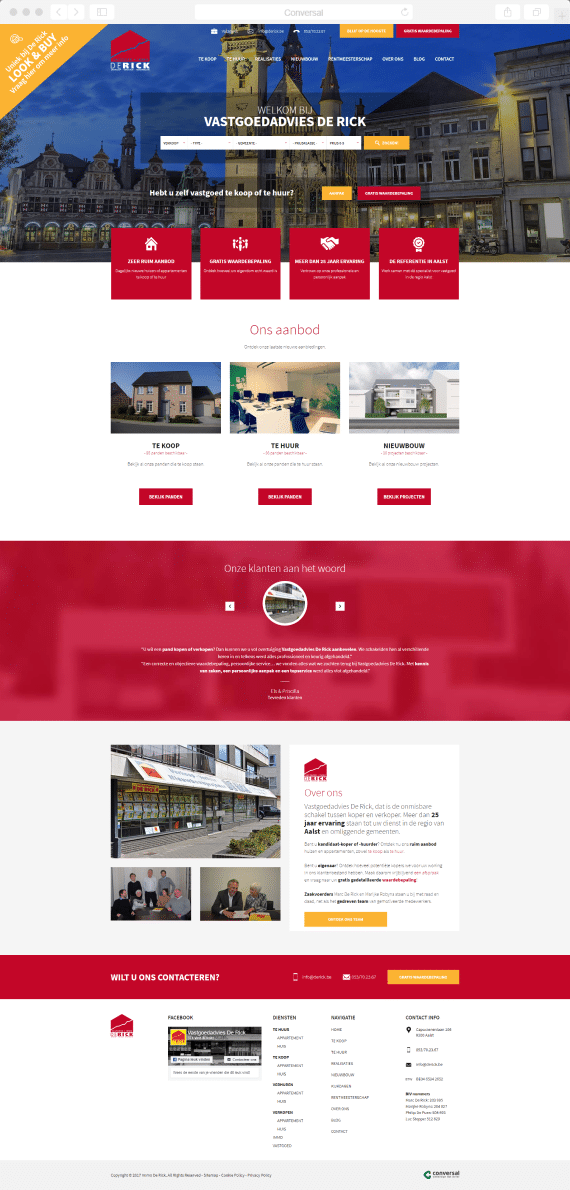 Bespreek jouw project
Benieuwd wat wij voor jou kunnen betekenen? Vul vrijblijvend het formulier in en we nemen snel contact op.