Guidance and Orientation for Audit Learners
Op deze website worden de resultaten van het GOAL project gepresenteerd. GOAL staat voor Guidance and Orientation for Adult Learners.
Het is een Erasmus gefinancierd project dat nieuwe modellen wou ontwikkelen of bestaande modellen van begeleiding en oriëntatie voor laagopgeleide volwassenen in zes landen wou uitbreiden.
Verleende diensten
Webdesign
Webdevelopment
Projectbeschrijving
Voor Adultguidance ontwikkelde we een website volledig op maat, met de focus op de projecten.
We integreerden een sectie waarop alle downloads beschikbaar zijn.  Op de homepagina kozen we ervoor de verschillende elementen van het project uit te lichten in afzonderlijke blokken.
Door gebruik te maken van "Call to actions" worden de bezoekers doorheen de website geleid en kunnen ze overal extra informatie verkrijgen.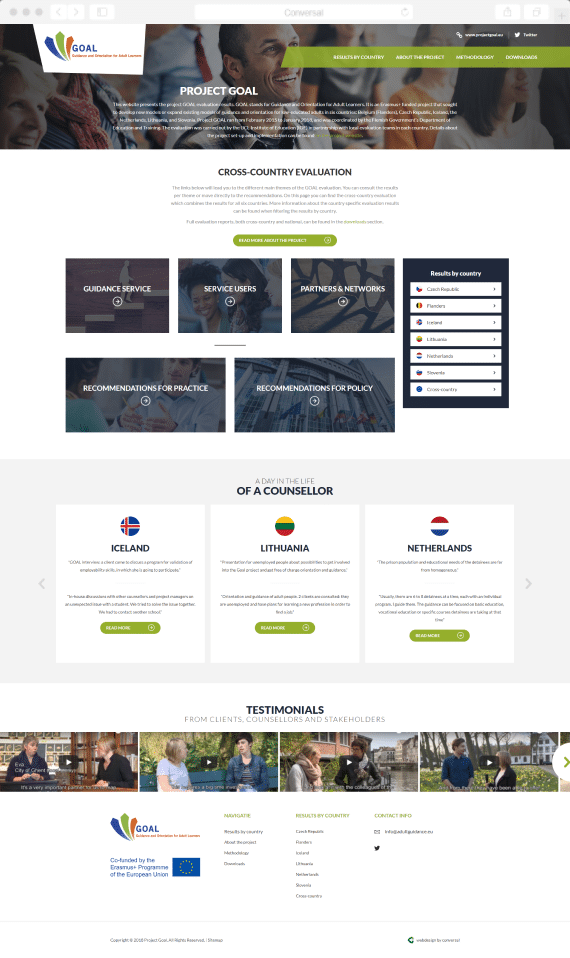 Bespreek jouw project
Benieuwd wat wij voor jou kunnen betekenen? Vul vrijblijvend het formulier in en we nemen snel contact op.