A blend of good vibes!
Passaporta werd gevormd door Christophe De Stoop in 2005 en groeide uit in Event Management, Hotel Contracting en International Tour Operating.
Creativiteit & passie, een sterke relatie met lokale leveranciers, jarenlange betrokkenheid en oog voor detail onderscheiden hen van de concurrentie. Zij staan garant voor onvergetelijke ervaringen.
Hun handelsmerk:
Ongebruikelijke benaderingen
Naadloze services
Unieke persoonlijke details zijn ons handelsmerk.
Verleende diensten
Logo design
Webdesign
Webdevelopment
Projectbeschrijving
De toenmalige website bestond 12 jaar en was volledig verouderd. Deze voldeed niet meer aan de hedendaagse normen.
Wij hebben de website een frisse nieuwe look gegeven, met als focus de events en incentives die aangeboden worden. Daarnaast hebben we het logo ook in een nieuw jasje gestoken.
De website werd volledig in het Engels ontwikkeld. Via verscheidene "Call to actions" worden de bezoekers doorheen de website geleid.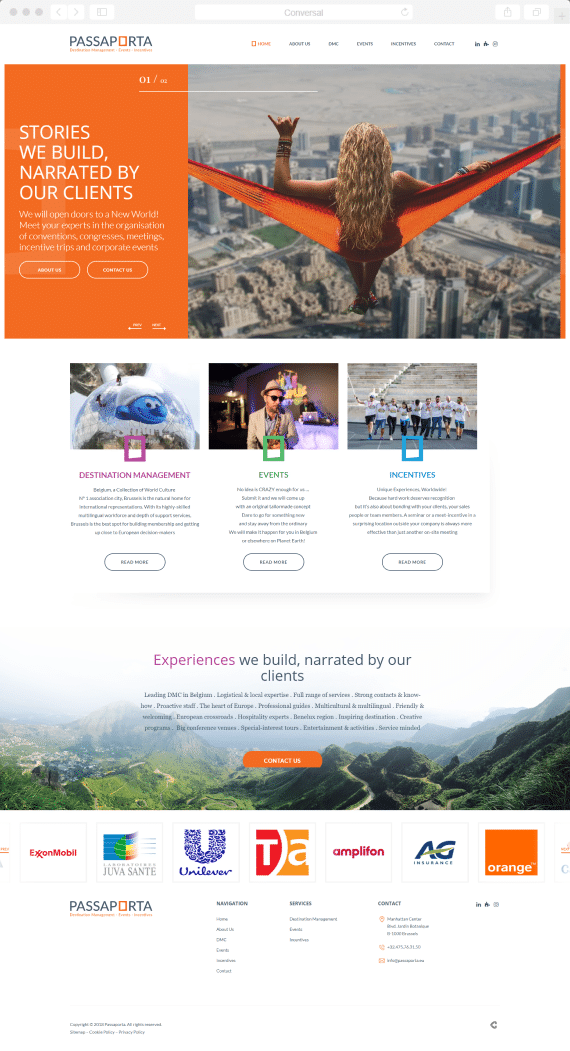 Bespreek jouw project
Benieuwd wat wij voor jou kunnen betekenen? Vul vrijblijvend het formulier in en we nemen snel contact op.