Empowering diversity of thought to accelerate performance
CFBL gelooft sterk in bedrijven die investeren in het creëren van inclusieve culturen.
Mensen die in een inclusieve organisatie werken zijn meer betrokken en gelukkiger. Daarom worden zij uitgenodigd om met hun talenten een bijdrage te leveren.
Evenwichtige bedrijven zijn als eerste in het aantrekken, behouden en betrekken van de beste en meest uiteenlopende talenten.
Verleende diensten
Webdesign
Webdevelopment
Productbeschrijving
Van bij de start gaf CFBL of languit Centre for Balanced Leadership aan dat alles verspreid was en de assessment tool afzonderlijk draaide.
Wij ontwikkelden een digitaal platform waarbij alles vanuit één plaats verzameld wordt.
Via deze website wordt alles gecentraliseerd en verwijst dit door naar het ontwikkelde platform.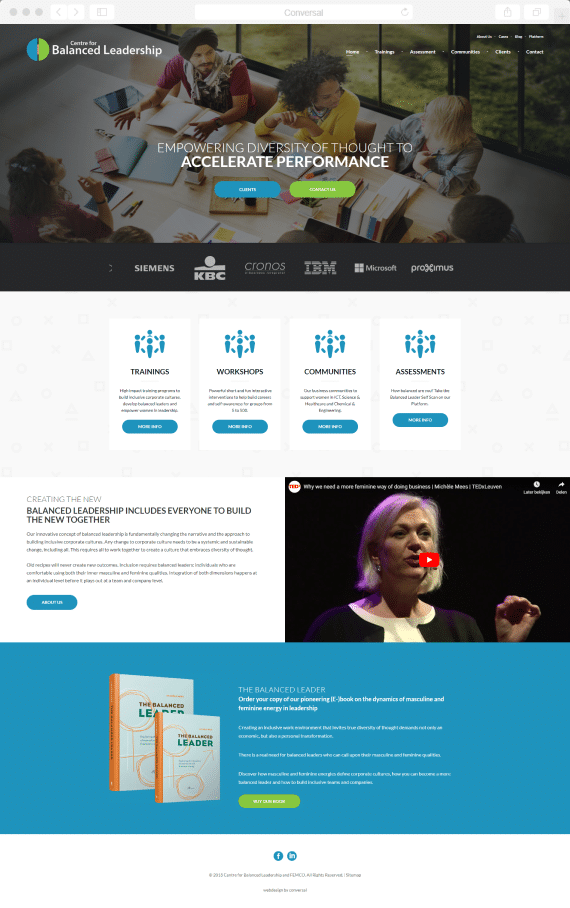 Bespreek jouw project
Benieuwd wat wij voor jou kunnen betekenen? Vul vrijblijvend het formulier in en we nemen snel contact op.