Specialist in plafonds, scheidingswanden en vloeren
Vernieuw, bescherm of deel uw bedrijfspand of woning zo ergonomisch mogelijk in. Zorg voor het nodige comfort met zicht op doeltreffende functionaliteiten.
VdD is specialist in plafondsystemen, scheidingswanden, verhoogde vloeren en interieurafwerking voor kantoren, vergaderzalen, ziekenhuizen, scholen en woningen.
Verleende diensten
Webdesign
Webdevelopment
Marketing
Projectbeschrijving
Voor VdD interieurafwerking ontwikkelden we een gebruiksvriendelijke website met als focus de verschillende aangeboden diensten.
De diensten worden meteen uitgelicht op de homepagina en leiden door naar de bijhorende detailpagina. Ook zijn deze diensten afzonderlijk te bereiken vanuit de hoofdnavigatie. De bezoeker waant zich door de website met behulp van duidelijke "Call to actions".
De bezoekers kunnen ook steeds contact opnemen op zeer eenvoudige manier door het contactformulier te vervolledigen.
Aangezien VdD BVBA tal van diensten aanbiedt hebben wij een zoekfunctie geïntegreerd op de website. Op deze manier kan de bezoeker de website doorzoeken wanneer hij niet onmiddellijk de juiste informatie vindt.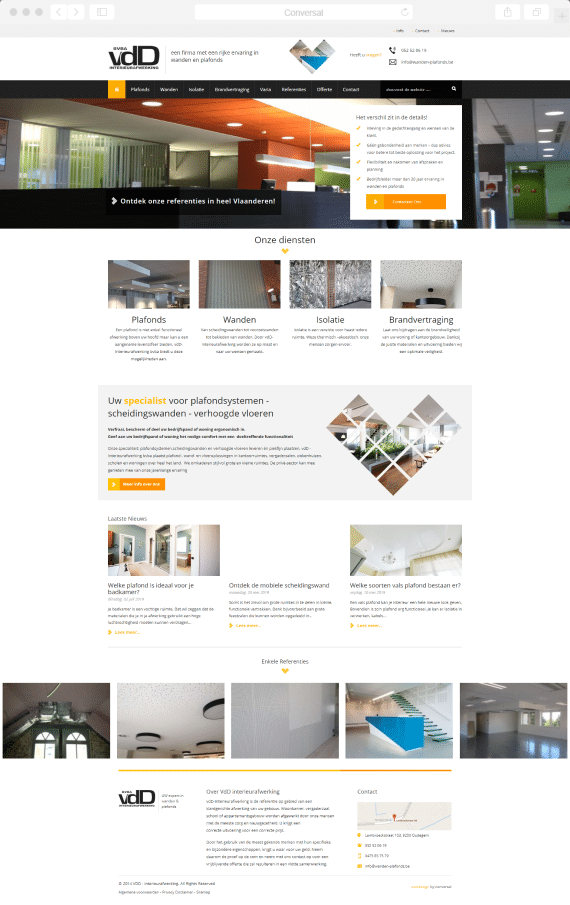 Bespreek jouw project
Benieuwd wat wij voor jou kunnen betekenen? Vul vrijblijvend het formulier in en we nemen snel contact op.